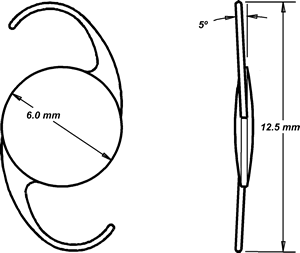 The 1-piece Acrylic IOLs represent another advanced intraocular lens technology today.
They combine the advantages of a foldable Hydrophilic Acrylic optic with the mechanical
properties of a variable cross section haptic.
The high Refractive index of the optic material allows for thinner, more easily foldable optics
The Hydrophilic Acrylic optic material has a long, proven record of high biocompatilbility.
Variable cross section haptics provide excellent mechanical positioning within the eye with an emphasis on centration, ensuring proper positioning of the implant for years to come.

Specifications:
Haptic Shape ........... Modified-J
Optic size ............. 6.0 mm
Haptic Length .......... 12.5 mm
Positioning Holes ...... None
Dioptric Power Range ... 10.0-30.0
Vault Angle ............ 5 Degrees
A-Constant ............. 118.0
AC-Depth ............... 4.65
Optic Shape ............ Equi-Convex