visco, elastic, viscoelastic, viscoelastics, intraocular, lens, lenses, iol, iols, general, innovations, gi, la gel, la lon, la labs, trephine, deutschmann, transplant, cataract, cornea, equipment, eye, gel, ha, healon, hpmc, hyaluronic, acid, implant, instrument, ophthalmic, ophthalmology, phaco, sodium, hyaluronate, surgery, Trepan, capsular, pharmaceuticals, acryl, acrylic, hyaluron, implant, incision, medical, device, methylcellulose, hpmc, operation, ophthalmology, pharma, pharmaceutical, solution, surgical, viscoel, viscoela, viscoelas, viscoelast, viscoelasti, abbomed, acrimed, acritech, alcon, allergan, amo, bohus, biotech, chiron, chroma, ciba, cima, clr, corneal, domilens, eyenovation, human, optics, imd, ioltech, Karlheinz, Schmidt, lca, medicontur, oasis, opsia, opthalmed, peha, pe-ha, pe, ha, pharmacia, rayner, storz, us iol, acrihylon, acriviscose, acrysof, adatocel, amvisc, ar40, biolon, cellugel, coatel, cohaerens, duovisc, endoea, endogel, healon, hymecel, lenscoat, microvisc, occucoat, ocucoat, oculocrom, ocumax, ocuvis, ophtalin, pe-ha-luron, luron, pe-ha-visco, prothea, provisc, rayvisc, sensar, us gel, viscoat, viscocel, viscorneal, viscum, visicrom, vitrax, Auge, Augenchirurgie, Implantat, intraokulare, Katarakt, Linse, metocel, methocel, oftalmologie, oftalmology, ophtalmologie, ophthalmische, viscosity, viskoelastische
GENERAL INNOVATIONS is a global ophthalmic distributor of Viscoelastics, IOLs, the ASMOTOM Automated Corneal Trephine System as well as other Medical Products.
Our specialty: LA GEL, LA LON and LA VISC from LA LABS
Hard PMMA and foldable Silicone and Acrylic IOLs
Brand name ophthalmic products from the leading manufacturers
We are continually searching to bring you innovative products
Contract manufacturing, private labeling, product development
Liquidation of surplus inventories from around the world
"To Love Life Is To Love Time. Time Is The Stuff Life Is Made Of." - Benjamin Franklin
International Distributors Wanted !
GENERAL INNOVATIONS
7334 Hollister Avenue, Suite i
Goleta, CA 93117 USA
Tel: +1 (805) 685-9991
Fax: +1 (805) 685-1292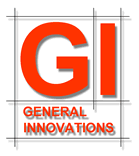 The world's most advanced corneal trephine system